Michael Flannerys Traditional Irish Bar
Michael Flannery's Pub is well known to everyone in Limerick. Located on Denmark Street, alongside the pedestrian shopping area of Limerick and just around the corner from the famous Milk Market, its vibrant red shopfront is set off against a beautiful stone façade.
The owner, Michael, is one of Limerick's longest serving publicans having entered the family business in 1959. Michael's grandfather, William Flannery opened the first Flannery's pub in 1898 and after an apprenticeship with his uncle Bill Ahearne of The Palace Bar Dublin, Michael took the reins of the family business and has been in situ since.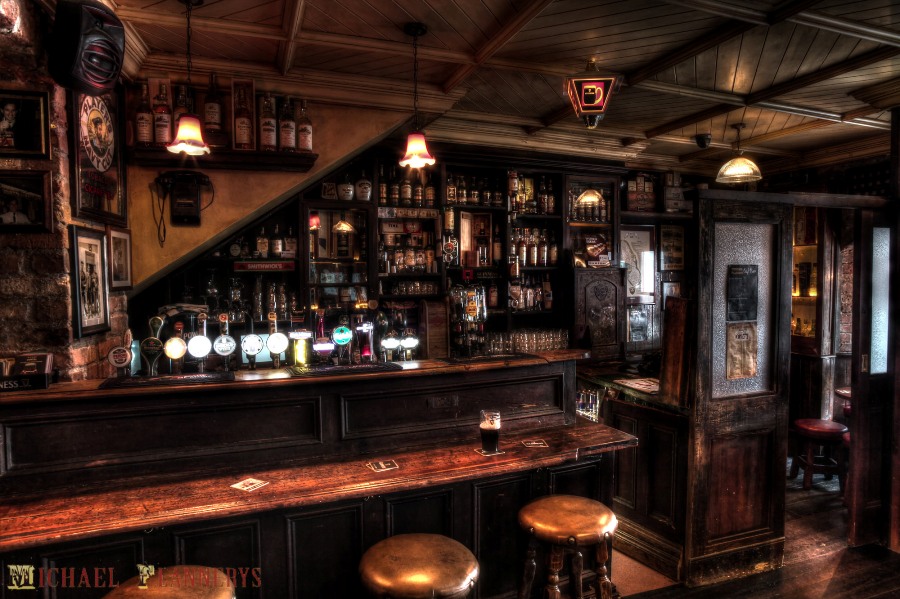 The building itself began life as a soap factory in the 1850s and many of Michael's customers would tell you that the culture of clean living which began in Anglim's Soap Factory is alive to this day except customers now use "Water of Life" (Uisce Beatha) to cleanse. Michael is one of the last remaining publicans who bottled his own Jameson whiskey and Guinness Stout from the cask until the mid 1960's when the practice of distilleries supplying whiskey in the cask directly to whiskey bonders stopped.
Indeed there is a beautiful display of the bottles and labels he used at the rear of the pub. As you make your way through the bar, take notice of the photographs of Michael and his customers on the stone walls, amid the memorabilia he has amassed from a lifetime in the licensed trade. It is Michael's links as a bottler of John Jameson Whiskey that began his love affair with Irish Whiskey. The Pub has over 100 different Irish whiskeys, making it's collection one of the largest in the country. Powers Johns Lane and Yellow Spot are two stand outs for customers.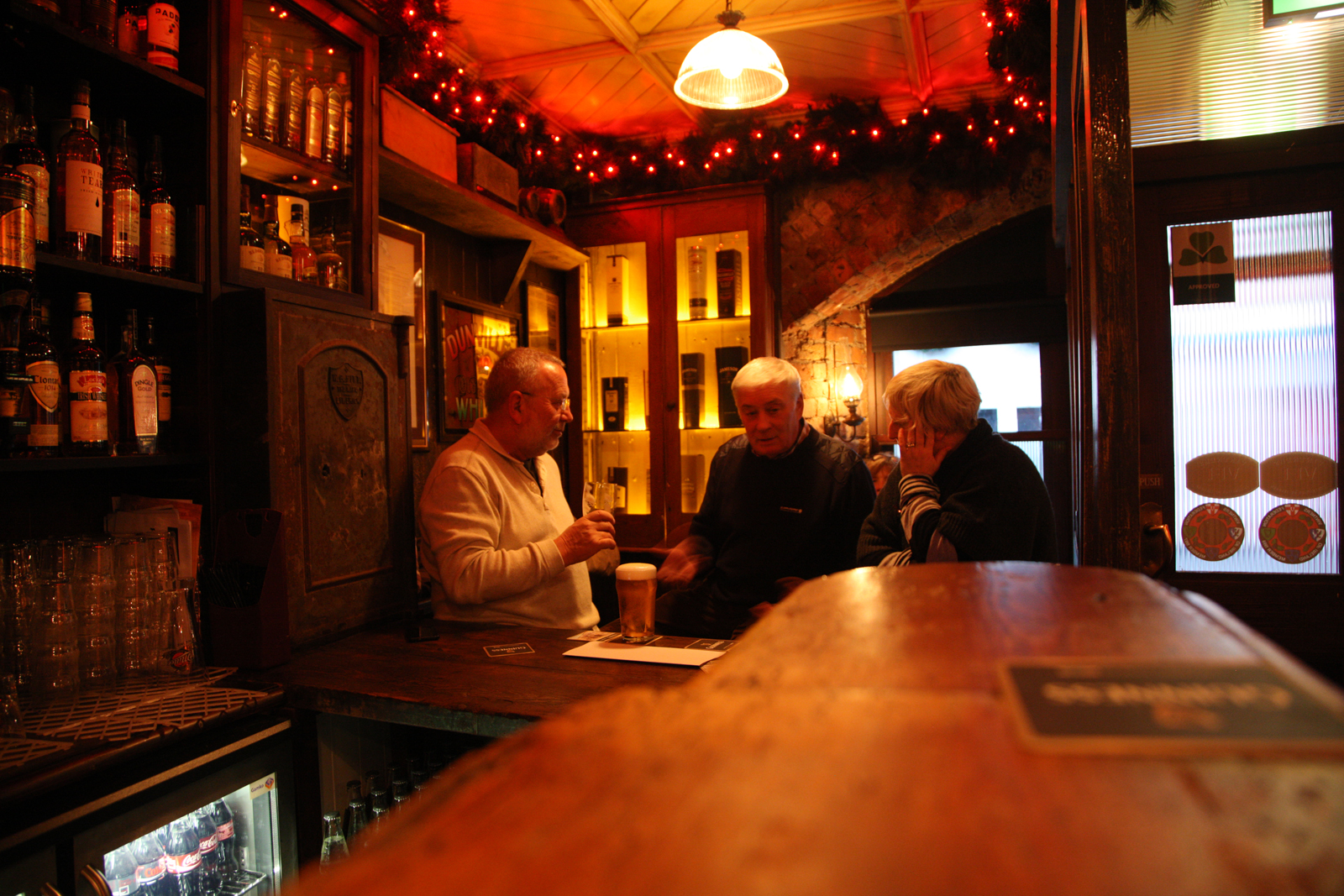 Michael likes to encourage his customers to discover the different types and styles of Irish whiskey and has gone to great lengths to produce a "Whiskey Bible" which lists all the Irish whiskies for sale accompanied with tasting notes and a history of the Pub and Flannery family. Feel free to take away your copy of the "Bible" as your souvenir!
Flannerys is famous for serving an excellent pint of Guinness and keeps up with the changing times by offering a very impressive range of Irish craft beers such as White Gypsy Blond, Ruby Red and Franciscan Well.
Michael Flannerys is famous in Limerick for being an old fashioned pub. A place where your Grandfather and Father drank and somewhere you hope to carry on your family tradition. The stone, brick and dark wood retain the feel of the traditional Irish country pub. This is a feel that nearly died out during the Celtic Tiger but thankfully not here. As you enter Flannerys, there is a snug located on your right hand side and it is perfectly sized for two old friends catching up or a group of ten attending a Whiskey Tasting Session.
There is a stove that emits a warmth that is heavenly on the many cold doors the Irish weather offers and it makes you run the risk of overstaying your welcome. The bar counter harks back to the days when groceries and dry goods were sold in many Irish pubs. At the rear of the bar, a door alights into a beautiful stone walled courtyard and this space is overlooked by a roof terrace which is awash with sunshine on most days of the year.
There is a spacious modern bar behind all this which caters for the young vibrant pub scene of Limerick city. This area serves lunch and breakfast from Monday to Saturday until 3pm with specialties such as Farmhouse Bread sandwiches and fish 'n chips. All major sporting events can be seen here but not in Michaels pub as it is a TV free zone (TVs are referred to as "conversation killers" by the staff).
A favourite with many local and national musicians, the bar has hosted many famous (and not so famous!) musicians over the years, including Mundy and Sharon Shannon. There is a live contemporary music on Friday nights in the adjoining courtyard and contemporary main Bar.
Any time is good to call into Michael Flannerys Pub. It opens at 10.30am every morning, except Sundays, where it opens at 12.30pm (times set by law!) Enjoy a read of the paper next to the fire or simply ask one of the many knowledge bar staff to help you with your visiting itinerary.